Use the Form Below to Request a Tour Booking
About Our Tour Guides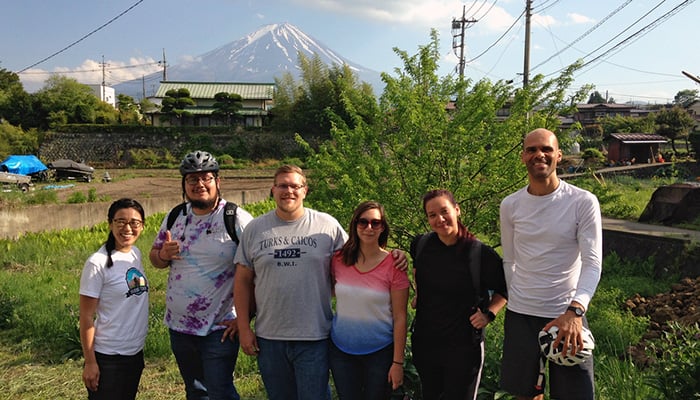 We are native English speakers and long-term residents of Japan who are passionate about conserving nature and making the beauty of Japan's bike routes, country roads, mountains and forests more accessible to visitors. Our training includes CPR, first aid and bicycle repair. We know the local routes well and will help you have a fun, safe journey.
Why Hire a Guide?
support car: For all tours, we provide a support car and driver. If you get tired, fall behind your group and need help catching up or want to skip an uphill segment, you can ride in the car. Your bike will also be transported by the car so you can resume biking when you wish. The support car enables you to enjoy and complete any tour we offer, regardless of your level of fitness or the difficulty of the course. And since you can always match your group's pace by riding in the support car, you won't need to worry you'll slow them down or be unable to keep up with them.


suitable bikes: In the Fuji area, most of the bikes available in rental shops are size S. It can be hard to find size M bikes for rent. Sizes L and XL are unheard of. Road bikes are also rare in rental shops. Our fleet of bikes, on the other hand, includes road bikes, e-bikes and hybrid bikes (also known as cross bikes or city bikes) in a wide range of sizes so you can ride in comfort on a bike that suits you. We maintain our bikes in much better condition than those in rental shops, and most of them are new.
snacks and bottled water: The support car and your guide bring along the light snacks and bottled water needed to keep you fueled up for the duration of your tour so you don't have to carry the considerable extra weight.
safe storage of small valuables and heavy items: If you need to bring valuable or heavy personal items (such as cameras and laptops) with you on the day of your tour, you can leave them for safe keeping in the support car so you don't have to carry them while biking. (Note that space in the car is limited, and it may not be possible to accommodate large or numerous pieces of luggage. Storage lockers more appropriate for storage of luggage are located at the train station where tours start).
local insights: Much of what interests visitors about biking around Mount Fuji, such as the routes that offer the most stunning views and cultural attractions, can only be experienced with the help of a local guide. Some of the most enjoyable Fuji area bike trips we can share with you aren't documented on maps or in guidebooks. We can also suggest the tours that're most compatible with your interests and level of fitness.
navigation: Many roads in Mount Fuji's foothills and the Fuji Five Lakes area are remote and offer few signposts to guide the way. Some key intersections only have signs in Japanese and fail to direct visitors to special attractions in the nearby countryside. Published maps display too little detail to rely on as primary navigation tools. In short, it's easy to get lost and miss some of the best spots without an experienced local guide.
bike repair skills: Mechanical problems beyond flat tires are always possible on a long ride. When touring remote areas like the countryside around Mount Fuji, a breakdown can leave an unprepared rider stranded far from a repair shop, unable to continue a trip. Our guides are experienced in roadside bike repair. If a problem occurs with your bike, they can enable you to resume your tour as quickly as possible.
supplies: We bring along supplies you may not want to buy or carry that may be needed in case of unexpected problems, such as bike repair equipment, a first aid kit and emergency food and water.
road and bike path conditions: Hazards can occur in unexpected locations on Fuji bike paths and roads. Weather events can bring down trees and cause landslides that block routes. Our guides keep tabs on bike path and road conditions and know when to cancel tours for safety. We select routes that avoid hazards or warn you when they're ahead.
wildlife: We're familiar with local wildlife that could pose problems, and we know how to greatly reduce the chance of unpleasant encounters.
emergency phone: We carry mobile phones and can precisely explain locations on Fuji area roads and bike paths in the Japanese language to speed the arrival of help in case a problem occurs.
environmental conservation: We have a passion not only for sharing the beauty of the Mt Fuji area with others but also for preserving it. Our guides convey to visitors how important it is that they leave the land free of litter and make it more convenient for them to do so by bringing along a garbage bag and taking responsibility for properly disposing of trash collected on the tour.