Mount Fuji Bike Tour
Tour highlights:
bike all the way around Mt Fuji and on the shores of all five lakes in its foothills, taking in diverse and outstanding views
experience Fuji from quiet country roads relatively few tourists visit
see a stunning waterfall that is counted among the hundred most spectacular sights in Japan
explore a traditional artisans' village and an ancient temple
view the iconic mountain foregrounded by vast fields of flowers
our support car enables anyone to complete this full-day tour, regardless of their level of physical fitness
Difficulty:
Moderate
Duration: 8 to 10 hours
Length: 130 km (80 mi)
Elevation gain: 2 km (6,500 ft)
Terrain: Bike paths, country roads
Departs from: Kawaguchiko Train Station
Tour fee: ¥19,000/person for 3 or more people, ¥29,000/person for 2 people or ¥59,000 for 1 person
What's included: Support car (to ride in if you get tired), English-speaking guide, bicycle, entrance fee for traditional village visited during the tour, basic insurance, helmet, bottled water and light snacks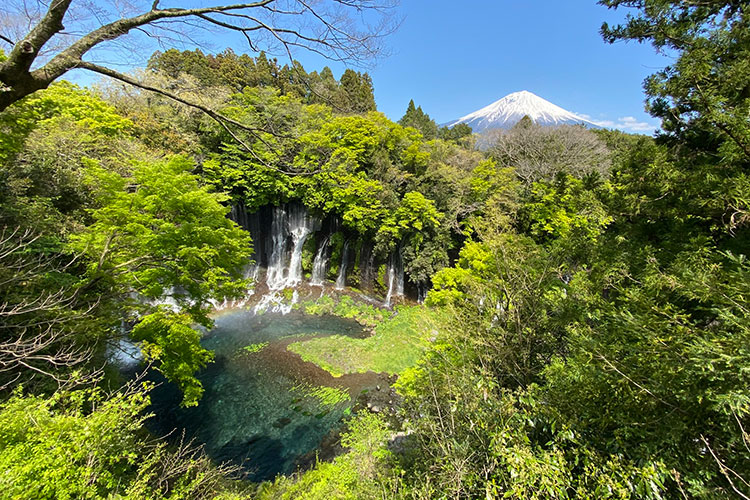 Description: Bike all the way around Mount Fuji through the countryside surrounding the iconic mountain. In Spring, cherry trees dust your path with pink blossoms. In Summer, fields of flowers foreground your views of Mount Fuji. In Fall, ride through brilliant crimson arches formed by roadside maple trees. As you circle Fuji, placid lakes, ancient shrines and emerald rice paddies provide ever-changing foregrounds to views of the mountain. This tour not only takes you along the shores of the Fuji Five Lakes and to a beautifully-preserved traditional Japanese artisans' village but also through Mount Fuji's western foothills and to a spectacular waterfall that are among the famous 100 Views of Japan.